24 Hour Bail Bond Service in Temecula, CA
Our 24/7 service isn't just for consultations. We invite current and even past clients to get in touch with us at any time of the night or day when they have a question about their bail bond or if they need to report a sudden change in their situation that could impact our contact. We're always available!
CALL US NOW AT 951-684-4484, GET  YOUR LOVED ONE OUT OF JAIL WITHIN HOURS!
Bail Information in Temecula, CA
Affordable Bail Bonds in Temecula
If you're concerned you can't gather enough money to pay for your loved ones bail in time, do not worry. There are other options, and the best one is to use a bail bond from Riverside Bail Bonds in Temecula.
What will happen is one of the friendly agents will take your call. They will take the name, location, and bail amount of the person in jail. You will strategize with your Riverside Bail Bonds in Temecula specialist the best payment plan that fits your financial needs so you don't need to stress too heavily. By utilizing Riverside Bail Bonds in Temecula services, you will only be paying 10% of the full bail amount. There will be no interest, no down, and no hidden fees. There may be collateral needs. Once everything is finalized, Riverside Bail Bonds in Temecula will get the bail bond over to the jail and your loved one will get out after it has been processed.
You will need to just make sure your loved one attends his or her appointed court date so the bail bond is secure. If he or she fails to do this, they will be rearrested with no bail option, and you will lose any collateral offered up for the bail bond.
Riverside Bail Bonds in Temecula makes paying for bail easier, less stressful, and most importantly, affordable. That being said, do not hesitate to call us at 951-684-4484 as soon as you know you need to pay for bail. With our help, you can relax a little bit!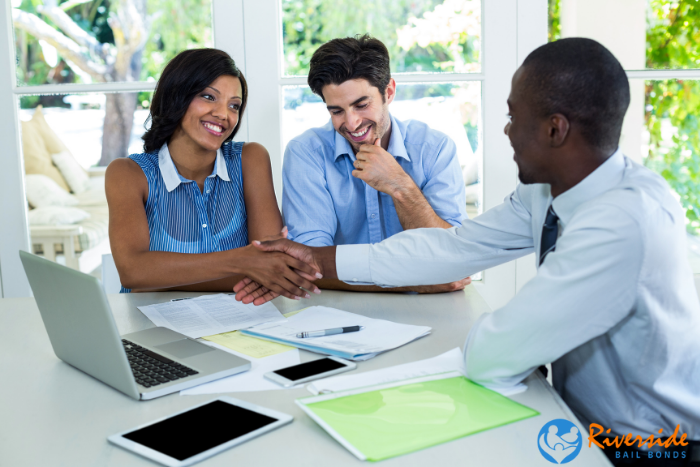 Looking for a Local Bail Bonds Help?
In your search for the best California bail bond company to help you get your loved one out of jail, you will come across many companies who sound like they'd be "alright." But we at Riverside Bail Bonds in Temecula, promise you that "alright" is not good enough. You shouldn't settle for just any company when we can promise you the best care and reliability in the industry – you'll be surprised at our rare level of competence and you'll see why we're the best to help you!
We Offer:
state-wide availability
Personalized, low-monthly payment plans to fit your financial situation
Easy online payment system
Zero interest
Zero down
No hidden fees
Over 120 representatives and licensed bail agents
Friendliness, willingness to help
Professional and reliable
27 years of industry experience
Family owned and operated company that is built on core values of family and relationships, meaning we take all clients seriously as if they are one of our own
More satisfied customers than any other company, including those who have been serving the industry longer
Multi-lingual agents
All work can be completed over the phone
We have yet to meet a client we could not help and we have yet to disappoint. We promise to do all that we can to help you get your loved one out of jail. So, give us a call at 951-684-4484 because you don't need to look any further than Riverside Bail Bonds in Temecula for your bail help!